New members appointed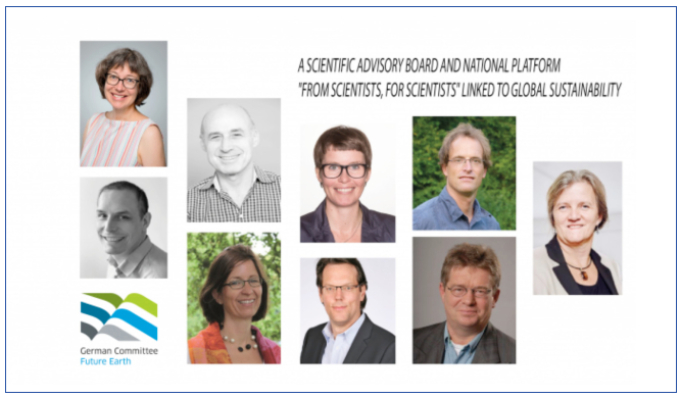 In December 2018, the Executive Committee of the DFG decided to renew the mandate of the German Committee Future Earth (DKN) for another three years. For this third term of office, the interdisciplinary committee includes 9 members and was extended by two members. The ad-personam appointed members contribute with expertise from different research institutions and fields such as climate research and adaptation, environmental research and ethics, development research, health science, economics and cultural science.

For the period 2019-2021 the DFG Executive Committee has appointed the following members to German Committee Future Earth:

Prof. Dr. Daniela Jacob (Chairwoman), Director of the Climate Service Center Germany (GERICS) at Helmholtz Center Geesthacht in Hamburg and Guest Professor at the Faculty of Sustainability Science at Leuphana University Lüneburg.

Prof. Dr. Jörn Birkmann, Director of the Institute for Spatial and Regional Planning at the University of Stuttgart and Professor for Spatial Development and Environmental Planning.

Prof. Dr. Michael Bollig,Board member of the Global South Studies Center (GSCC) in Köln, Associate Vice-Rector for International Affairs in the Global South at the University of Cologne and Professor of Anthropology.

Prof. Dr. Aletta Bonn, Head of Department for Future Ecosystems at the Helmholtz Centre for Environmental Research – UFZ in Leipzig and Professor for Ecosystem Services at the Friedrich-Schiller-University Jena part of the German Centre for Integrative Biodiversity Research (iDiv) Halle-Jena-Leipzig.

Prof. Dr. Ute Nöthlings,Professor for Nutritional Epidemiology at the Institute for Nutritional and Food Science at the der Friedrich-Wilhelms-University Bonn and Member of the DFG Permanent Senate Commission on Food Safety.

Prof. Dr. Konrad Ott, Professor for Environmental Philosophy at the Christian-Albrechts-University Kiel and Director of the Gustav-Radbruch-Network for Environmental Philosophy and Ethics.

Prof. Dr. Martin Quaas, Head of the research group on biodiversity economics at the German Centre for Integrative Biodiversity Research (iDiv) Halle-Leipzig-Jena and Professor for Biodiversity Economics at University Leipzig.

Prof. Dr. Markus Reichstein, Executive Director of the Max-Planck-Institute for Biogeochemistry in Jena and Professor for Global Geoecology at the Friedrich-Schiller-University Jena.

Dr. Imme Scholz, Acting Director of the German Development Institute in Bonn und member of the German Council for Sustainable Development.



As a scientific advisory body and national platform for research in the context of the international programmes "Future Earth: research for global sustainability" and the World Climate Research Programme "WCRP", the German Committee Future Earth fosters the international and national dialogue about global sustainability science. Both programmes as well their institutional supporter, the "International Science Council (ISC)", are funded by Germany through the DFG.

Commencing its inaugural meeting on the first of March 2019 in Berlin, the newly appointed members will focus their work on the following issues:

Supporting the German community in developing research questions of societal relevance and in designing integrated research projects.
Mobilising and integrating researchers and stakeholders of Germany in activities of Future Earth and WCRP. Networking with other relevant groups on the international stage as well as with funding bodies in Germany, Europe and worldwide.
Advise on quality criteria for transdisciplinary and solution-oriented sustainability research and on fostering the establishment of quality criteria in evaluation and selection procedures in German research funding landscape.
Advising the DFG on matters regarding Future Earth and WCRP as well as on other strategic issues in the international context.



We very much thank the passing members of German Committee Future Earth Prof. Dr. Martin Visbeck (GEOMAR Helmholtz-Centre for Ocean Research Kiel), Prof. Dr. François Buscot (Helmholtz Zentrum für Umweltforschung – UFZ), Prof. Dr. Anita Engels (University Hamburg), Prof. Dr. Armin Grunwald (Karlsruhe Institute for Technology), Prof. Dr. Patrick Hostert (Humboldt-Universität zu Berlin), Prof. Dr. Wolfgang Lucht (Potsdam Institute for Climate Impact Research; member until 2017) and Prof. Dr. Karen Pittel (ifo Institute – Leibniz Insitute for Economic Research at the University of Munich) for their expertise, support and the productive collaboration in the last years. We are especially indebted to Prof. Dr. Martin Visbeck for his longstanding support as Chairman of the German Committee Future Earth. We are grateful also to Dr. Bettina Schmalzbauer for leading the Secretariate of the German Committee Future Earth for many years.